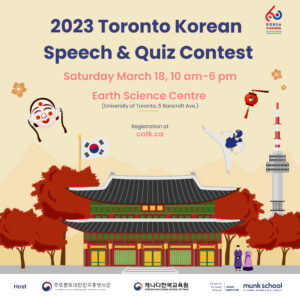 The 17th Annual Toronto Korean Speech Contest will be held on Saturday, March 18, 2023 at the University of Toronto. This year's event will be held in in-person format for the first time since the COVID-19 pandemic.  Participants should submit their online application along with the script by Tuesday, Feb. 28, 11:59 pm EST. A message about the qualification will be sent to each participant. Qualified participants should attend the main round meeting held at 11am on Saturday March 18 (Eastern Time). A panel of three judges will ask each participant instant questions after each speech presentation.
Please see https://catk.ca/speech-contest/guidelines/ for more details.
The website does not show the prizes at this moment (as of Feb 3, 2023), but organizers informed that they will include a roundtrip flight ticket to Korea, summer program at Korean universities, and more!
1-2 qualified UBC applicants can receive up to 400 dollars to cover your travel cost. If you are interested in participating, please contact Eurie Shin (eurie.shin@ubc.ca) by Saturday Feb 18, 11:59PM. You don't need to have your script ready by then, but we want to see if anyone is interested first to plan the budget. Thank you.