Speaking Practice Forum is a volunteer-based program designed for Korean learners seeking opportunities to practice speaking Korean and engage with Korean speakers to learn about their culture. Our team of volunteers comprises exchange students from South Korea at UBC, Korean heritage speakers on campus, and advanced learners who have completed KORN 300 level at UBC. Regardless of their Korean course registration status, individuals with an active CWL can participate in the program and connect with Korean speakers for language practice.
The program operates during Winter Term 1 and 2, typically spanning from the second week to the third last week of each term. Sign-up sheets are made available on the weekend preceding each week, allowing Korean learners to select a convenient 15-minute time slot to meet with volunteers and engage in Korean conversation. Depending on the availability and preference of the volunteers, sessions can be conducted either in person or via Zoom.
To learn more about the Speaking Practice Forum, please enroll in the Canvas course, where you can access additional information and resources. We recruit volunteers starting two weeks before the term starts.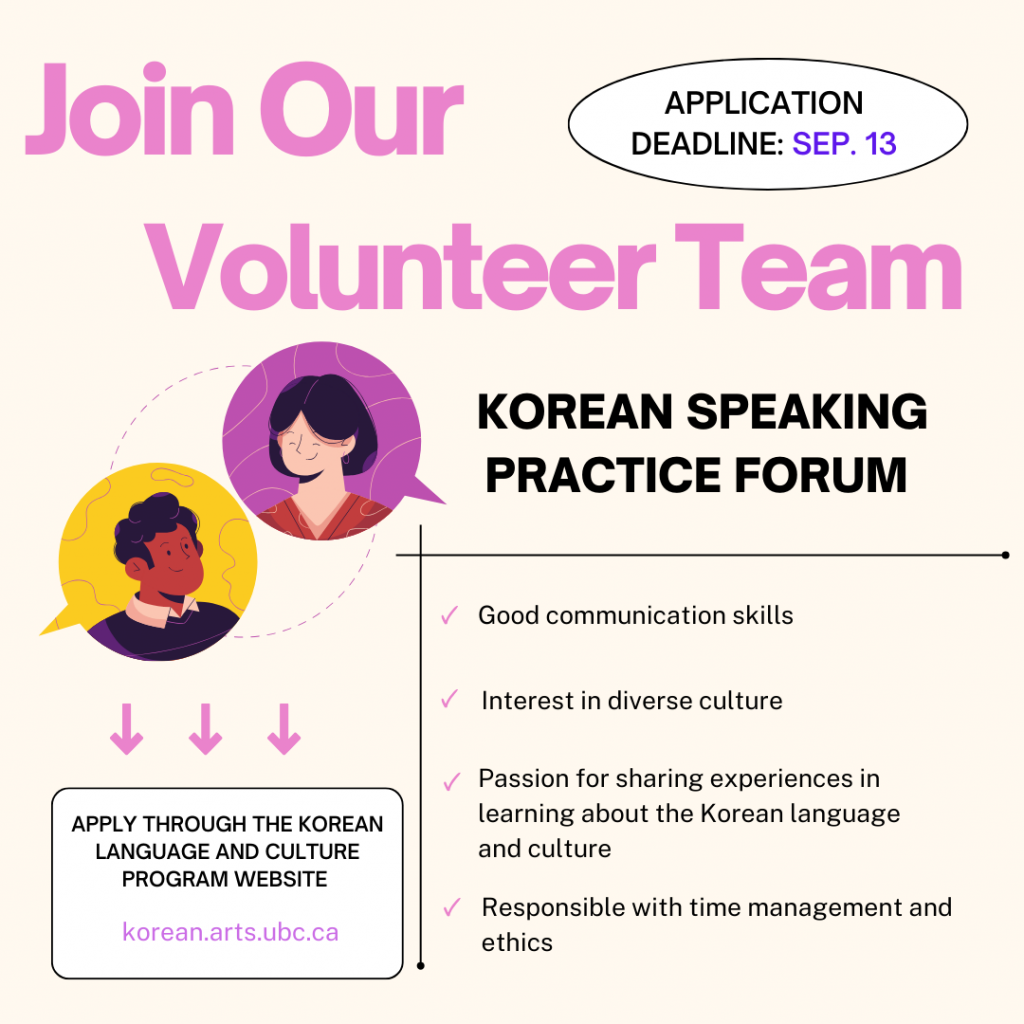 2023W T1 Speaking Practice Forum Volunteer Application Opened
The Korean program is seeking volunteers who will help out Korean learners at the Korean Speaking Practice Forum in 2023W T1 (September – November). The Korean Speaking Practice Forum aims to connect UBC Korean learners with each other, and create a Korean learners' community on campus. 
As a volunteer tutor, you will join Zoom meeting or come on campus in person during the time of your choice, and meet with Korean learners to practice speaking. You are not expected to provide grammar explanation or any instruction, and no preparation is necessary. You don't need to have any tutoring experience to volunteer. A fluent speaker of Korean or anyone who has took or is currently enrolled in KORN 351, 410, 420 or 440 is qualified to be a tutor. If you know any other current UBC students who might be interested in participating, it would be great if you could forward this message to them.
As an added benefit, you can improve your Korean while helping others learn: your knowledge will become more solid, and your speaking will improve from practicing. A certificate will be given at the end of term upon your request as well.
The tutoring sessions will start from Monday, September 18, and will end on Friday, November 24. You can choose any time slot that works for you, one hour per week, which you can attend throughout the term without changing it. You also need to attend a 1-hour orientation before your first session (the time and date will be announced later).
If you are interested, please fill out the form below, and we will get in touch with you within 48 hours.