For the second year in a row, UBC's Korean Language Program hosted the Annual K-Pop Dance Event on November 8th at the Asian Center Auditorium. Organized by students in the Korean Language Program, the event was attended by over 50 UBC students and invited guests. 
This year's event was sponsored by the UBC's Department of Asian Studies, as well as the Consulate General of the Republic of Korea in Vancouver. This support enabled the organizers to provide special prizes and delicious Korean food that were enjoyed by everyone in attendance. 
The two-hour event began with a K-Pop dance class led by Britney Kam. Through a participant poll, Nayeon's "POP!" was selected as the song to be learned, so everyone attending was already familiar with it. The student instructors carefully demonstrated the choreography and despite some difficult steps to learn, all of the participants definitely became "main dancer" contenders by the end of the lesson!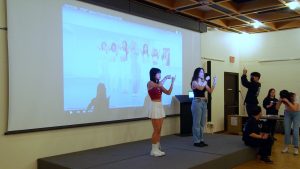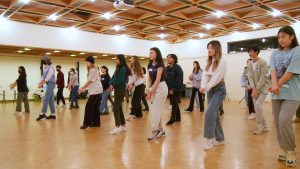 The dance routine was followed by a dinner break where the participants enjoyed delicious kimbap from Gorugoru, as well as a selection of popular snacks including banana Choco-pie and mochi cookies. Later, the participants enjoyed watching performances of various K-Pop dances, including "Illusion" by Aespa, put on by UBC's K-Wave dance team.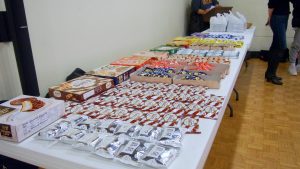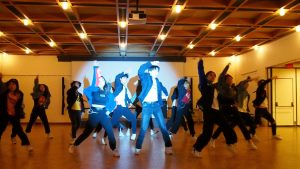 Afterwards, the event host, Kim Pamintuan, put the participants into groups for the Korean Kahoot. The Kahoot was divided into five categories: K-Pop, K-Drama, Food, Korean Culture, and Korean Language. The participants' excited faces while answering the questions and expressions of joy with each correct answer created a positive energy in the room! The final part of the night was the Random Play Dance, where short segments of ten famous K-pop songs including TWICE's "What is Love" and BTS's "Dynamite" were played as participants performed the key dance moves.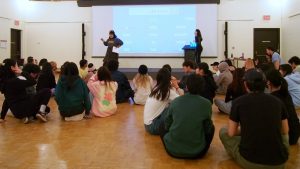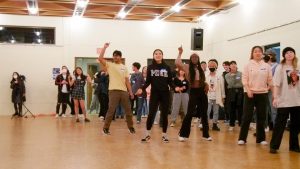 The event ended with the distribution of prizes to the top three teams of the Kahoot, as well as the winner of the Random Play Dance. This year, the prizes included three autographed Enhyphen CD's, stuffed animals, photocard cases, as well as smaller gifts such as sheet masks, snacks, and cute sticker packets!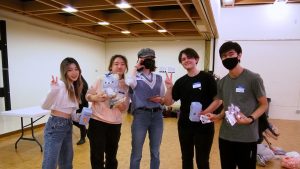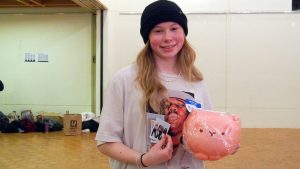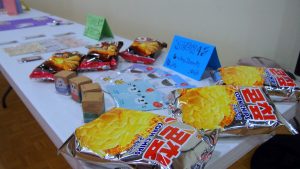 Overall, the event was a tremendous success! Something notable about the K-Pop event was the diversity of the group interested in K-Pop and other facets of Korean culture. It was nothing short of a moment of solidarity as we witnessed the students coming together to dance, share their love for Korean culture, and have a great time together! Please visit our Facebook page (https://www.facebook.com/profile.php?id=100064660070007) to see more photos of the event.  
Writer: Keerti Gupta